Weight Lifting Injury Recovery in Burbank
Weight lifting injury can happen at any time while you're lifting weights, whether in the comfort of your own home or in a gym. You try to lift too much at once or you attempt to lift weights without using the proper form, and before you know it, you've wound up with one of those weight lifting injuries you've heard about athletes succumbing to.
We routinely treat patients with sports injury complaints, setting up a unique rehabilitation program that's designed to improve their strength and dexterity as well as remove the source of pain, setting them on a course of healing and relief.
What Are Some Common Weight Lifting Injuries We Treat?
Before you come to our chiropractic clinic in Burbank, CA, here is an overview of common weight lifting injuries that we have experience in treating.
Biceps Tendinopathy
Meniscus Tear
Rotator Cuff Tear
Rotator Cuff Tendonitis
Shoulder Impingement
This is an overview of injuries treated here on a regular basis. But if you don't see your particular weight lifting injury here, please get in touch with our office to discuss treatment options.
Why Does Chiropractic Care and Rehabilitation Help More Than Not Doing Anything?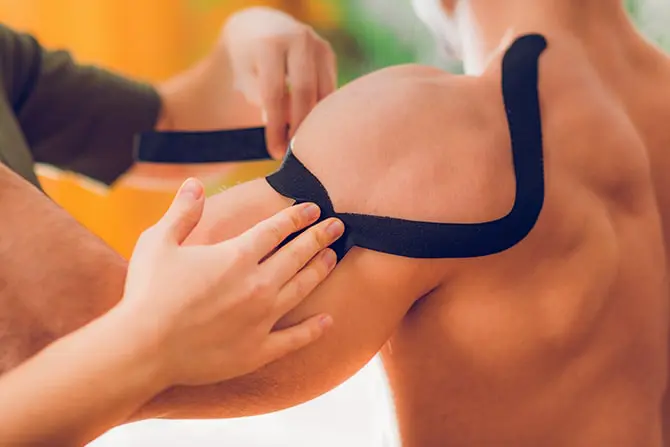 It might be tempting for you to stay on the couch and not do anything at all for a while, hoping that your weight lifting injuries will subside by themselves. But nothing could be further from the truth.
You owe it to yourself to take advantage of the full range of medical solutions currently available, including the services of a professional chiropractor with years of experience in sports injury treatment.
We can clear up your long-term injuries with a tailor-made rehabilitation plan. It will be made just for you after the chiropractor evaluates your condition and checks your pain and range of motion.
It's better to get treatment as early as possible following injury because you can continue to hurt your body by moving in an unnatural way, favoring the injury.
What Is Chiropractic Care?
Chiropractic care is ideal for preventing injuries from weight lifting as well as to help you boost your performance, in addition to treating injuries.
Your chiropractor in Burbank can perform gentle adjustments to the spine, which when brought into balance helps the body to naturally heal better. You also experience better rest, which is essential for recovery.
Heat and cold therapy may be applied, along with electrical muscle stimulation.
In some cases, the chiropractor may determine it's best to offer you therapeutic massage, laser light therapy and special exercises are other tools for treating your painful weight lifting injury. You'll also learn how to stretch, exercise and lift weights in a safer manner to avoid getting injured again.
Why Choose Allied Pain and Wellness in Burbank?
For many years, our Chiropractor has been providing comprehensive chiropractic care to residents of Burbank, CA, and the surrounding community. We have compassion for each patient who passes through our front door and we are devoted to bringing relief and pain reduction for all who are injured.
After your first visit, you'll see why we've developed such a good reputation in the local area from people who have been healed, who wind up recommending us to their friends and family.
Set an Appointment to Get Relief for Weight Lifting Injuries in Burbank Today
Weight lifting injuries can be serious as well as painful and deserve prompt attention by a professional chiropractor. After all, the sooner you heal up, the sooner you can get back to the gym to pump some more iron.
Our chiropractor will not only bring you relief through customized treatment but will also show you how to protect yourself from becoming injured again, going forward. Call us at (818)-688-2275 or click here to contact Allied Pain and Wellness today.