Our Burbank Chiropractor Can Help You Overcome Your Chronic Pain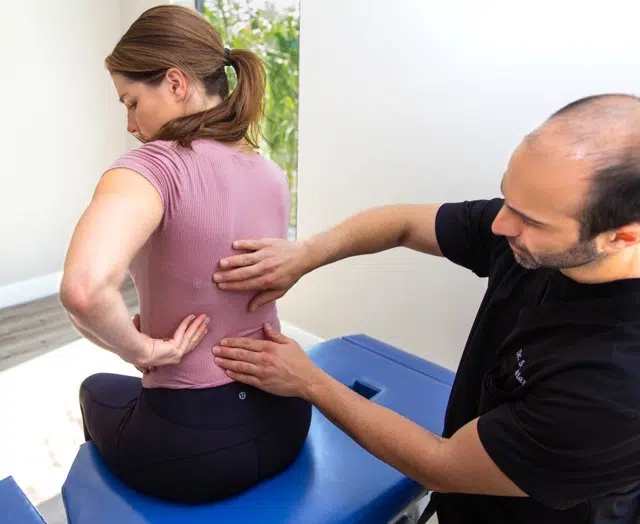 Here at Allied Pain and Wellness, we strive to increase your overall wellness and alleviate any pain that is keeping you from living your life to the fullest. We treat many conditions in our Burbank chiropractic office. Chiropractic care has a large spectrum of conditions that can be treated with a non-invasive or surgical approach with high success. Most people think chiropractors only work with low back pain but chiropractic can treat sports injuries, neck pain, and Sciatica. No matter what condition you have, we will always first start with a consultation and exam to ensure the best treatment option is fitting for your condition.
We also provide a range of other treatments at our Burbank office such as Massage Therapy, Ultrasound, EMS or Electro-Magnetic Stimulation. We provide this so that the best therapies can be used in the right situation in conjunction with chiropractic care. Over time, our chiropractor, Dr. Shahen Simian has learned each patient is unique and that a thorough analysis must be done with the right procedure. If you have any conditions that are listed below and local to Burbank, give us a call to schedule a consultation.
Here is a short list of common conditions & injuries treated by our Burbank Chiropractor:
Back Pain: Back pain is one of the leading causes of disability in this country. Some of the most common causes of back pain include paraspinal muscle tenderness, disc herniation, and pinched nerves. We specialize in the treatment of back pain and might be able to help people avoid the operating room.
Neck Pain: Neck pain comes in many shapes and forms. We treat neck pain following sports injuries, car accidents, and more. We also see people who suffer from neck pain due to postural issues.
Sciatica: Sciatica is among the most common causes of back pain. This can lead to leg pain and leg weakness in addition to back discomfort. We can find ways to ease the irritation of the sciatic nerve, helping people recover.
Sports Injuries: Even though we encourage people to play sports, we understand that injuries can happen at any time. Whether someone plays a contact sport or a non-contact sport, we can diagnose and treat the injury quickly, helping people return to play safely.
Disc Herniation: A herniated disc in the back and could lead to shooting pains that travel down one of the legs. Even though many people think they need to have surgery for a herniated disc, this is not always the case. We might be able to help people recover without surgery.
Shoulder Pain: Shoulder pain comes in many forms. Whether this is bursitis, a rotator cuff injury, or an overused situation, we can help people with shoulder pain.
Knee Pain: Knee pain could take place following a sports injury or a car accident. We know how to diagnose and treat knee injuries quickly.
Whiplash: One of the most common causes of neck pain is whiplash. If it took place in a car accident can lead to significant neck stiffness.
Bursitis and Tendonitis: Bursitis and tendonitis can be particularly painful. Inflaming locations where muscles insert on the bones, can severely limit the range of motion of numerous joints.
Headaches/Migraines: Headaches and migraines are particularly problematic. We can figure out the cause of the headache and prevent them from returning in the future.
Arm & Hand Pain: Arm and hand pain could include carpal tunnel, golfer's elbow, and tennis elbow. Trust us to get to the bottom of this issue.
Hip Pain: Hip pain is often related to an issue involving not only the muscles of the hip but also the back as well. We will check the alignment and adjust it if necessary.
Scoliosis: Scoliosis is an abnormal lateral curvature of the spine. Even though many people think they need surgery, we can use adjustments and manipulations to keep someone out of the operating room.
TMJ Pain: TMJ pain can make it very difficult to chew. We can take a look at the alignment of the jaw and adjust it if necessary.
Plantar Fasciitis: Plantar fasciitis can make it incredibly difficult for people to walk and run. We can take a look at someone's foot and ankle, identifying the root cause of this concern.
Muscle Strains: Muscle strains often stem from overuse injuries. We can help individuals recover from muscle strains with physical therapy and corrective exercises.
Ligament Sprains: Ligament sprains commonly take place in the elbows, shoulders, knees, and ankles. We can identify the cause of the ligament sprain and help people recover.
Vertigo: Dizziness often arises from issues related to the inner ear. We can use simple, painless procedures to address this issue.
Our Office is conveniently located in Burbank, CA. Feel free to reach out to us if you wish to learn more about how Chiropractic care has worked with great success in many others. Call our office at (818) 688-2275.