Air Relax Compression Therapy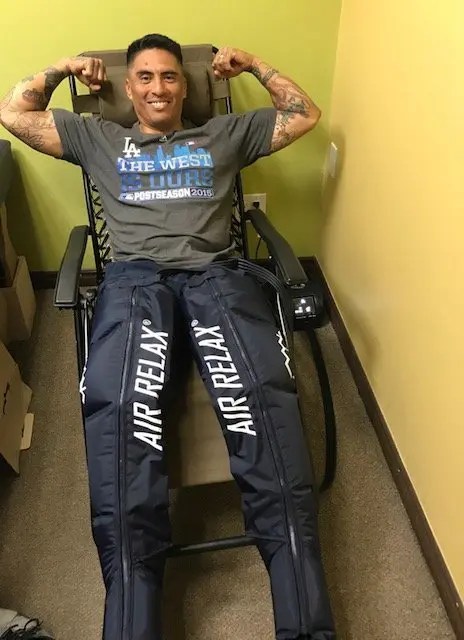 Sport Recovery With Air Relax
Increasing Athletic Recovery and Complications with Air Relax's Compression System While working with athletes, Chiropractors are constantly striving to bring the most advanced treatment options available to those in pain or looking to have a quick recovery. Air Relax is a new item that is scientifically proven to help with athletic recovery. Air Relax's compression system uses a digitally controlled air pressure system to provide compression to limbs. Generally, this is used on the legs for poor circulation or injuries.
Historically, compression devices were used for patients with serious muscular and also circulatory disorders. Some of these include lymphedema, P.A.D, and Venous insufficiency but they were only available through a prescription. Now fast forward to today, you will find Recovery pumps and compression pumps used by universities, physical therapists, sports teams, and professional athletes to treat sports injuries and to go even further; to enhance their training.
With Air Relax, we can treat:
Venous insufficiency
Lymphedema
Poor blood circulation
Other circulatory and peripheral vascular conditions
Rapid recovery (for Athletes)
Your Burbank Sports Therapy Chiropractor
Our chiropractor, Dr Shahen simian, knows that athletes are interested in learning how to reduce their recovery time after intense exercise or sporting events. Scientific studies, done recently, show that lymphatic therapy leads to physiological changes which indicate muscular recovery improvements. Unlike the heart, the lymphatic system doesn't have a pump. To help with the circulation of your lymphatic system, Air Relax delivers a natural sequential compression and flushes waste. Generally, athletes and those in sports experience this waste as soreness and fatigue in their muscles.
Helps Athletes to re-hydrate, refuel, and recover.
Can help integrate effective recovery into training regiments.
Reduces Fatigue from strenuous training.
Boosts your performance
Chiropractic care coupled with the Air-Relax can serve many great purposes to decrease pain and decrease rehabilitation time. Along with correcting the structural component of the spine and lower extremities with chiropractic care, the Air-Relax can help facilitate that healing process by flushing out any type of inflammation, promote tissue healing, improve circulation, and increase your recovery time from intense workouts. This device can also help decrease muscle fatigue, soreness, and is used by many professional athletes today competing at the highest level!
If you are an Athlete in Burbank or the surrounding areas (91506 zip) or maybe have any of the listed conditions mentioned above. Please reach out and let us know! We would love discuss the benefits of compression therapy. Our Chiropractor, Dr. Shahen Simian is experienced with Athletic recovery and many other conditions Chiropractors treat. Call us today at (818) 514-7294